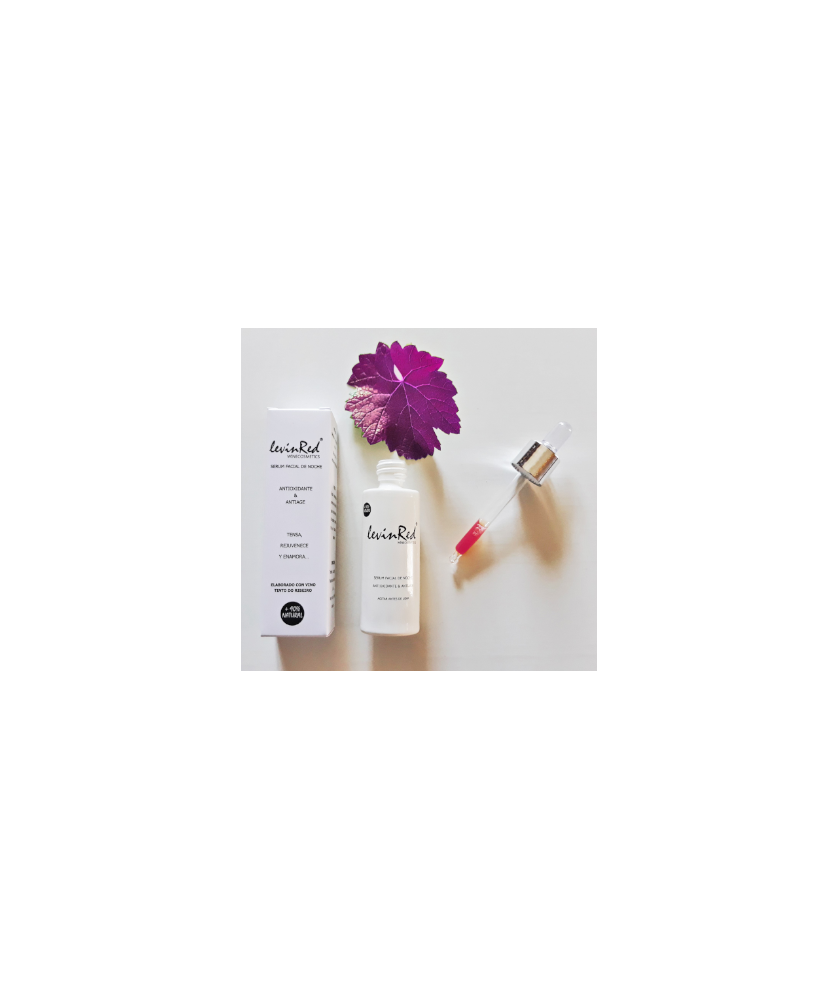  
LEVINRED FACIAL SERUM
Anti-aging and antioxidant facial serum
Pago Seguro
Envíos en 48/72 horas
15 días de devolución
Today, red wine is an ally of beauty thanks to the polyphenols that, in addition to fighting free radicals, responsible for skin aging, stimulate the skin's metabolism, protecting elastin and collagen fibers and regenerating dead skin cells. the epidermis. It is these properties that make red wine a magnificent tool in the fight against aging; blurring wrinkles, elasticity and firmness to the skin.
General characteristics:
Line of facial treatment with antioxidant action thanks to the main component of its composition, red wine, which helps fight free radicals, responsible for skin aging, and stimulates skin metabolism, protecting elastin and collagen fibers and regenerating dead cells. With extraordinary immediate anti-aging action due to the excellent combination of ingredients that act at different levels.
It has a light, velvety texture and is quickly absorbed, it is made with 94.8% of natural active ingredients and antioxidants, which help delay the first signs of aging and fatigue. For skin that needs an extra dose of elasticity and firmness.
Overall results:
Tests carried out with individuals with fatigued and / or damaged skin have shown that, from the first application, there is an immediate improvement with a smooth, soft appearance and a subtle tightening effect. In addition, in younger skin a firming effect is observed with the continued use of the product.
This product in addition to red wine contains:
• Natural tightening active ingredients that act at different levels, on the one hand creating a three-dimensional matrix that smoothes the skin, and on the other, minimizing the contraction that causes wrinkles to occur. Giving rise to a tightening effect, which favors the appearance of the skin.
• Glycolic Acid that produces a gentle peeling effect on the skin, helping to eliminate dead cells, and therefore, favoring the regeneration process.
• Collagen and elastin, which give rise to a firming effect on the skin, as they help to regain its elasticity, thus helping to restore tone and prevent sagging and sagging of the skin.
• Fucus extract with moisturizing action thanks to its polysaccharide content and also antioxidant action due to its polyphenol content.
• Panthenol or provitamin B5, which is an active ingredient with a highly moisturizing action that helps against dry skin. Provides lubrication and penetrates the deep epidermis. In treating acne, it improves sebum secretion and prevents blackheads.
• Vitamin C and encapsulated Retinol since it is known that vitamin C has a great antioxidant capacity, and retinol is one of the most used active ingredients for its excellent anti-aging action, but in this case they are encapsulated, which guarantees that they reach the skin in optimal state (in the free state they would degrade), and on the other hand they penetrate greater measure, so that with a lower dose the effect is even greater and the possible irritating effects that could occur in other cases are also minimized.
• Betaine: Natural hydration factor, reduces the sensation of dryness on the skin, irritation. Promotes skin regeneration and stimulates the formation of collagen.
How to use:
Apply preferably at night as retinol could cause spots if the skin is exposed to the sun. It could be applied during the day if sun protection is used. Shake the product for the perfect mix of active ingredients. Apply a small amount of product to the skin of the face, neck and décolleté, making gentle circular movements until completely absorbed.
Conservation:
Store in a cool, dry place. The container must be well closed and protected from light. If temperature variations occur, the product may lose its benefits. In addition, the product will undergo a gradual color change once opened due to the oxidation of the wine, which does not imply a decrease in the quality of the product.